Where is it?
Base Rogač is situated in the northern part of the island Šolta, in a bay surrounded by pine trees, only 9 nautical miles (i.e. 16 km) from Split. At the same time, Rogac is the island's main connection with mainland, which developed in modern history due to the needs of the nearby town - Grohote - the oldest and the largest place in the island's inland. It is also an ideal destination for yachtsmen and everyone eager to enjoy the natural beauties of the island and its surrounding area.
The bay of Rogač has three branches: Kasjun, Banje and Rogač. The bay of Kasjun is situated in the western part of the bay and is sheltered by a small wooded peninsula. The middle bay is Rogač, the best secluded bay with a quay for ferries and catamarans, which connect the island with Split several times a day. The pier of SailingEurope Charter is situated not far from the mentioned quay. The bay of Banje is situated in the southern part, ending with a pebbled beach, especially well adjusted for children. A short promenade from Rogač leads toward this bay.
The sea in the bay is clean and clear, so you can take a swim while waiting for your sailing boat to be prepared for embarkation. The bay is not too big, and the charter base is only a few steps away from the beach, local coffee bar or pizzeria, from where you can enjoy the view of traditional stone houses, the church of St. Theresa, etc.
An antique town of Grohote is situated only fifteen minutes on foot from Rogač. It has a store where the guests can do their shopping before their sailing trip. SailingEurope Charter also organizes food delivery (upon request). We strongly advise you to visit Grohote as well as the gallery of the naive painter Eugen Buktenica, and to stroll through vineyards and olive-groves toward the church of St. Michael.
The whole bay of Rogač is well secluded from all winds - the only exception is the northern wind, especially Bora (NE), but mostly during the winter months.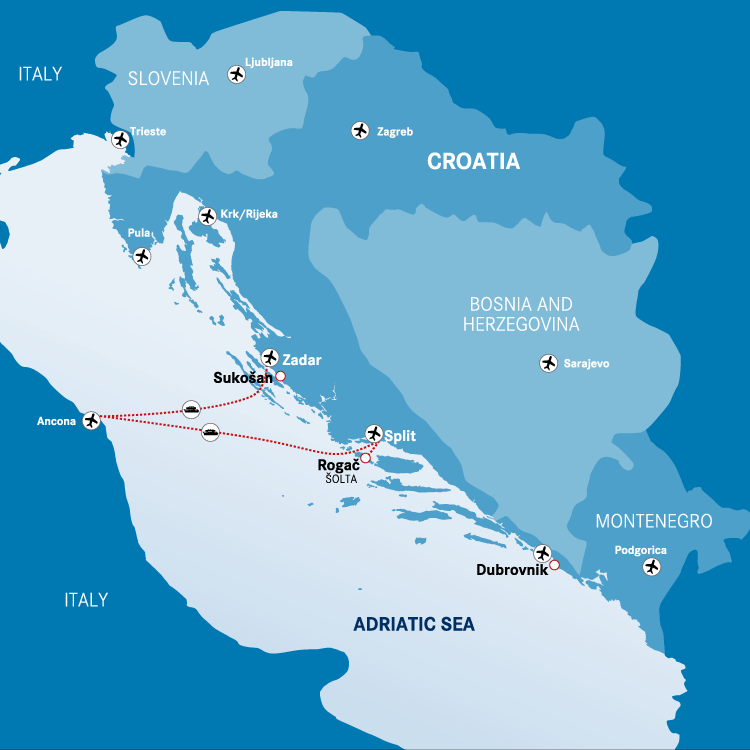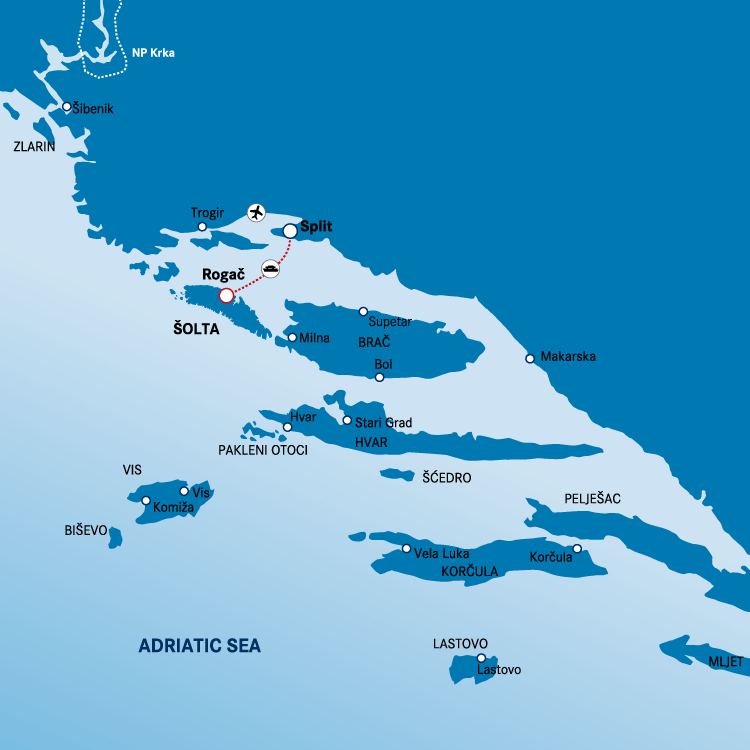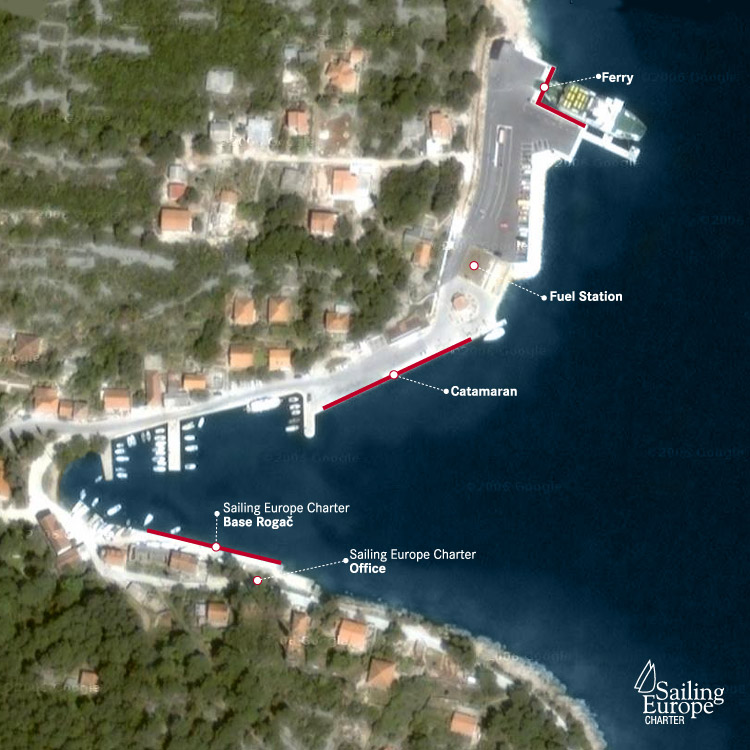 How to Arrive?
You can reach Šolta and Rogač either by ferry or catamaran, both departing from Split city port. Ferries and catamarans operate throughout the year (from morning till evening), and during the summer months, extra ferry lines are introduced.
Travelling by ferry takes 45 minutes. Tickets can be bought in the main business office of "Jadrolinija" in Split city port, and upon return in a business office in Rogač. Ticket price amounts to about 3 € for passengers, 14 € for cars and 6 € for motorcycles. You can check the time-table for ferry traffic at the following link: www.jadrolinija.hr.
There is a catamaran line from Split toward Rogač on a daily basis - the drive lasts 30 minutes. Ticket price amounts to about 3 € and tickets are bought at the "SEM" agency, right next to the quay.
Travelling by Plane
Almost every international airport has regular flights toward Zagreb, Croatia, from where you can further continue toward the coast. In high season number of flights increases and numerous charter flights operate directly toward the biggest tourist destinations in Croatia: Dubrovnik, Split, Zadar, Rijeka and Pula.
Croatia Airlines has flights toward: Amsterdam, Copenhagen, London, Barcelona, Rome, Milan, Sarajevo, Skopje, Berlin, Dusseldorf, Frankfurt, Munich, Zurich, Vienna, Brussels, Paris, Moscow, Prague and Tel Aviv.
During the summer months, Split airport is very well connected with almost all European countries, either directly or via Zagreb. The airport is only 25 km far away from the city port, which you can reach by bus or taxi. SailingEurope Charter can organize transfer by mini-bus or car from the airport to the city port and vice versa.
Travelling by Car or Bus
Highway connections between the destinations on the Croatian coast and Central Europe are improving more and more. During the summer months traffic is quite dense at border crossings, which can cause minor congestions. You need a valid driver's license and Green insurance card to enter Croatia and drive through it. Toll is charged on highways, semi-highways and bridges according to the section (road) length and vehicle type. It can be paid at toll booths in cash, with credit cards (American Express, Diners, MasterCard, Maestro, Visa) or cheques (the lowest amount per cheque 10,00 Kuna). Toll can also be paid in Euros.
Basic Information:
In Croatia, people drive on the right side of the road
Driving with headlights is obligatory during both day and night from 30th October to 26th March
Use of mobile phones while driving is not permitted
Use of seat belts is obligatory
Maximum permitted amount of alcohol in blood is 0,5 per mill
Unless the traffic signs indicate differently, permitted speed limits are the following:

50 km/h - within built-up areas
90 km/h - outside built-up areas
110 km/h - on major motor routes
130 km/h - on motorways
80 km/h - for motor vehicles with a caravan trailer, buses and buses with a light trailer
If arriving from the direction of north, the highway Zagreb - Split is the fastest way to reach Split. If arriving from the direction of Trieste, just drive toward Rijeka and then choose one of the offered alternatives:
The Adriatic highway along the coast (toward Split) - it is somewhat longer but more interesting.
Use the highway toward Zagreb and then switch to the highway Zagreb - Split upon the junction "Bosiljevo 1".
If you want to transport the car to the island of Šolta, head toward Split city port, from where you can reach our base by ferry. You won't have difficulties in finding the ferry quay - just follow the directions for "Split centre" or "Split port". You can also leave your car in a secured parking area or in a garage of the hotel "Marjan". The hotel "Marjan" is situated on the coast, near to the very centre of Split and in the foot of the park and wood Marjan. It is only 15 minutes walk from the ferry port. Daily parking price in the garage amounts to about 9 €, and for the outdoor parking about 7 €.
Regular international bus lines connect Croatia with Italy, Slovenia, Serbia, Bosnia and Herzegovina, Austria, Germany, France, Hungary and Slovakia. Croatia also has a very well developed national bus network that reaches even the smallest towns and places on the coast.
Split has a very good bus connection with all bigger cities both in Croatia and abroad. The Split bus station is situated right next to the main city port.
| | Zagreb | Rijeka | Dubrovnik | Trieste | Ljubljana |
| --- | --- | --- | --- | --- | --- |
| Distance/km | 390 | 335 | 210 | 415 | 450 |
Travelling by Train
The railway network connects all major Croatian cities except Dubrovnik. There are direct lines to Germany, France, Austria, Switzerland, Italy, Hungary, Slovakia, Slovenia, Bosnia and Herzegovina, Serbia and Montenegro. Indirect lines connect Croatia with all other European countries. Train types operating in Croatia are: InterCity (IC), EuroCity (EC), Express (Ex), fast (B) and local trains.
There are fast trains from Zagreb to Split on a daily basis (8 hours drive) as well as business trains (5,5 hours drive). The railway station is situated very near the ferry port.
Travelling by Ship
The leading Croatian shipping and ferry company, Jadrolinija, takes part in both national and international traffic with its shipping and ferry lines.
If travelling by ship, you can use some of the regular ferry lines from Rijeka or Dubrovnik toward Split, or international ferry or fast lines from Italy (Ancona, Civitanova, Giulianova, Pescara, Bari). The quay for international lines is only a few minutes walk from ferries and catamarans for Solta.
Useful links
IMPORTANT REMARKS
1. Last-Minute bookings or changes:
The price of speedboat tranfer (190 € if you travel by car, 190 € if you travel by plane) is valid in case of booking the transfer minimum 2 weeks in advance. If the speadboat is booked last-minute (less than 2 weeks in advance) or if there are last-minute (less than 2 week before the transfer) changes to the schedule or number of passengers, this causes additional expenses and the transfer price will increase to 20 EUR per person per way.
2. Luggage:
Due to size of the speadboat, it is generally possible to carry one suitcase+handbag per person. Additional luggage may be charged as an extra person (15 EUR per way).
3. Subsidized costs:
Please note that the actual cost of the speadboat transfer is much higher than the price paid by Clients, and that SailingEurope Charter pays the price difference to the speadboat provider company. We are doing our best to arrange for your comfort and ensure a most convenient arrival to your Yacht.
Related articles:
Looking for some other destinations in Croatia? Learn about the best marinas in Dubrovnik area, top places to sail to in Zadar region, and top charter bases in Split area (besides Rogač).