Food & Drink
Gastronomy of the Croatian coastal region is developed in a tradition of natural, healthy food based on vegetables, fish and seafood, accompanied with wine and sheep and goat cheese. Vegetables are cooked in a small amount of water and seasoned with olive oil and aromatic herbs. Fish is grilled or cooked in a stew, while meat, usually lamb, is spit roasted to get a unique taste.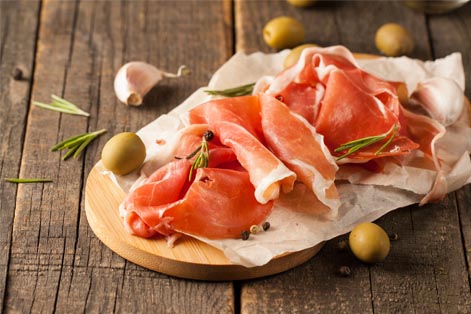 One can distinguish between the cuisines of Istria, Kvarner and Dalmatia, because of the difference in taste and in the way the food is prepared. 
An original Croatian product is Istrian pršut, a ham dried in the "bura" wind. The most famous Istrian dish is maneštra, a thick soup with vegetables and dried meat. Fish and seafood specialties of this region are salty whitebait, a mollusc salad, cooked or grilled fresh fish and Kvarner scampi (shripmps). Istrian pastas and risottos are commonly served with local truffles, first-rate mushrooms which emit a wonderful aroma, and asparagus in olive oil. The above mentioned specialties are only a fraction of the gastronomic wealth this region offers.
Traditional Istrian deserts are fritule, which are similar to donuts, and pinca, sweet bread consisting of apple bits and raisins, prepared for Easter celebrations. One also must try sweet ravioli when in Istria.
Dalmatian cuisine is lighter and less aromatic than the Istrian. Olive oil is one of the basics of Dalmatian gastronomy. Some of the typical Dalmatian dishes are: fish soup, grilled fish, octopus, oysters from Ston, scampi and mussels na buzaru (stewed), pašticada with gnocchi (Dalmatian goulash), and barbecued meat marinated in rosemary. The combination of olives and Pag cheese in olive oil is something you have to try.
The most usual ingredients of a typical Dalmatian desert include Mediterranean fruit, raisins, dried figs, almonds and honey. Some of best Dalmatian sweets are Dubrovnik's rožata, a caramel pudding made from eggs, and gingerbread from the island of Hvar.
A glass of a delicious wine should accompany every delicious meal. The first vineyards in this area were established by the ancient Greeks. Croatian coast abounds with vineyards, and is known for production of various sorts of top-quality wines. The white Istrian "Malmsey" wine complements seafood dishes wonderfully, while dark "Teran" wine goes exceptionally well with meat dishes and goulashes. Dalmatian "Prošek" and Istrian "Zlačani Muškat" go well with sweets and refined dishes. Goat cheese tastes delicious accompanied with the renowned "Plavac" from the island of Hvar. The wine-producing peninsula of Pelješac offers a rich choice of wines, like "Postup", "Dingač", "Kneževo" and "Carsko", and the Primošten's red wine called "Babić" is known worldwide.
When it comes to combining sailing and the best of the Mediterranean cuisine, nothing can beat gulet cruises where you get to enjoy gastronomic wonders of a professional chef.
If you are in the mood for something more exotic explore Caribbean cuisine while sailing.